Job Profile: Central Conneticut State University
Issue: Customizing HVAC unit design to meet IAQ requirements and ADA compliance standards
Solution: (553) Daikin ThinLine fan coils, (1) Daikin Skyline® 25,000 cfm outdoor air handler, (2) Daikin VRV heat recovery units with (20) Daikin indoor units
Issues/Project Summary
Building an $82 million residence hall to serve as home-away-from-home for its students called for rigorous design specifications for Central Connecticut State University (CCSU). In particular, CCSU needed the latest in advanced HVAC technology to meet indoor air quality (IAQ) design requirements and comply with the Americans with Disabilities Act (ADA). The eight-story facility opened to students in fall 2015 and features 150 suite-style rooms for 600 students and administrative offices. Amenities include a fitness center, community kitchen, meeting rooms, game room, and fireplace.
A 25,000 cfm Daikin Skyline outdoor air handler was also specified to supply tempered air to the main level that includes offices, the fitness center, and other spaces. To serve electrical rooms and the tele-data rooms on each floor, SWAN Associates also supplied Daikin variable refrigerant volume (VRV) systems that include 20 wall-mounted air conditioning units configured to two outdoor VRV, heat recovery condensing units set up for low-ambient cooling operation.
CCSU's Mid-campus Residence Hall opens to students in fall 2015 and features 150 suite-style rooms and administrative offices.
Daikin ThinLine fan coils with custom cabinet modifications were the preferred choice to fit underneath window sills and meet ADA compliance.
Unique Solutions
Fan coil units in the dorm rooms were customized to the size needed by the university to accommodate tight spaces. "Over a five-month period, we worked closely with the architect, engineer, and customer to devise the best design on the fan coil units to meet ADA compliance standards. The console fan coil units had to be designed with cabinet modifications to fit underneath the window sills to accommodate only 20 inches of counterspace between the windows and the edge of the sills for handicap access," says Steve LeClair, P.E., sales engineer and Daikin representative with SWAN Associates in Newington, CT. To bring in enough fresh air into the rooms for IAQ requirements and accommodate a unique side-ducted connections, LeClair devised a special spin-in duct collar with integral damper to balance the fresh air.
"Mid-Campus is the largest dorm building we have in the CCSU system and makes HVAC system design more complicated because of the dual-pipe system that is used," says Jim Grupp, P.E., director of engineering at CCSU in New Britain, CT. "We have similar HVAC systems in service elsewhere on the campus and applied that knowledge to this project. We have also successfully worked with SWAN Associates and Daikin before."
Daikin provided 525 vertical console and 28 horizontal ThinLine fan coil units to meet basis of design. "In addition to designing the vertical fan coils with a modified cabinet and spin-in duct collar, we also included valves and controllers from a third-party supplier at our factory that enable the units to be controlled through the building's automation system (BAS)," says Ray Boyd, fan coil applications engineer with Daikin. The vertical fan coil units are used in the dorm suites and the horizontal fan coil units are used in common spaces and mechanical-related rooms.
Daikin's fan coil units feature electronically commutated motors (ECMs)rendering an 80-percent efficiency rating that is far higher than the standard permanent split-capacitor (PSC) motor and the efficiencies contribute to LEED certification. "The BAS controls the fan speed of the ECMs remotely per the design requirement and building schedule, allowing adjustment of the fan speed during night mode or for the next day when high heat may be a factor," LeClair says.
A Daikin Skyline outdoor air handler provides the building with tempered air at up to 25,000 cfm to maximize comfort conditions.
An HVAC first in Connecticut—Daikin units connect to light-weight, low-cost aluminum piping and connectors that do not require brazing and reduce labor.
"These VRV split systems are unique in that the configuration is not commonly used for tele-data rooms and was recently approved for low-ambient control," LeClair says, noting the VRV systems also mark the first project in the state featuring Reflok® aluminum piping and mechanical connectors for piping the VRVs. "The Reflok aluminum piping system is one-third the weight and less expensive than copper, requiring no brazing which made for reduced labor by the contractor," LeClair adds.
Delivery and installation of equipment for the design-build project was phased to meet a tight construction schedule. Of the fan coils, the largest order involved an expedited Daikin shipment of 479 units delivered in March 2015, with the remaining units delivered in July.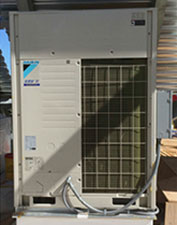 Daikin VRV units provided unique split system design.
Outcome
Installation of the Daikin equipment was completed in August 2015, with third-party commissioning by Consulting Engineering Services, in time for students to take occupancy of the new facility on August 28. LeClair and Grupp also credit the installation services by P&D Mechanical, Inc. for their quality craftsmanship, dedication, and to making the project a real success.
"Every tele-data room has a VRV unit with its own thermostat to control temperatures. It's a nice system that controls high-heat rooms and so far, it's doing its job very well," Grupp says. Grupp explains the true test will be student comfort. In order to qualify for the anticipated LEED Silver certification following the first year of operation, CCSU will poll dorm residents in the 2015/2016 school year to assess the performance of the HVAC system and determine if any alterations are required to satisfy occupant comfort levels. In fall 2015, it was all systems go when the Mid-Campus Residence Hall greeted students for the first time.
For more information about this job profile, please visit DaikinApplied.com.
Back to Blog